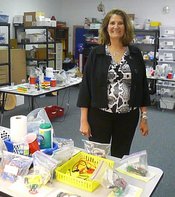 Melissa McKown
Ringgold Elementary's fifth grade teacher, Melissa McKown, has been selected by the National Council of Teachers in Mathematics (NCTM) and the National Science Teachers Association (NSTA) to be trained at the 2016 Mickelson ExxonMobil Teachers Academy at Liberty Science Center in Jersey City, NJ. She received her letter of award from Amy and Phil Mickelson in late April. "Your dedication and passion truly separated you from the competition," stated the Mickelsons.
Melissa will join 154-third through fifth grade teachers from across the nation from July 17-22 for the one-week, all-expense paid professional development opportunity. McKown was one of only four selected from the state of Georgia. According to the Mickelson ExxonMobil Teachers Academy, 1200 applications were submitted and reviewed. Selection was based on teacher qualifications, dedication to inspiring students at an early age and overall commitment to enhancing the teaching profession.
"Today's teachers and students must learn how to 'speak science' to ensure we remain competitive as a nation," said PGA golfer Phil Mickelson. "The Exxon Mobil Teachers Academy encourages teachers to use real-world examples and in-class experiments to build excitement about STEM learning, educating the next generation of American innovators."
At the Academy, McKown will learn innovative ways to capture students' interest in math and science and inspire them in these subjects. The Academy aims to:
· Deepen the teachers' understanding of mathematics and science content with data and statistics, measurement, force, and motion
·

Build expertise in facilitating student learning through problem solving and inquiry
·

Use links between math and science to support student learning
·

Help teachers understand how children learn and apply that to classroom instruction
·

Build teacher's knowledge base and use of instructional resources to support students' learning
·

Network with others involved in third through fifth-grade mathematics and science education
McKown is a true asset to the Ringgold Elementary faculty, providing rich instructional opportunities in the classroom and in the school's science lab. RES is very proud to be the only elementary school in the county with a fully-equipped, interactive science lab, which is due in large part to McKown's grant writing and love for science. The faculty and staff extend their congratulations to Melissa McKown for her impressive accomplishment!