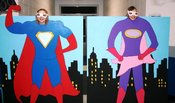 Lillian Joy LaMountain and Savannah Mizic look SUPER in their self-created masks!
Ringgold Elementary students and families recently enjoyed a night of learning, fellowship, and fun at the annual Literacy Night. Teachers were asked to participate in a Door Decorating Contest, displaying a favorite book. Doors were designed and decorated by students with minimal assistance from staff. The hallways sprung to life with depictions of The Wizard of Oz, The Lightning Thief, Neil Armstrong, The BFG, The Secret Garden, Charlotte's Web, The Lion, the Witch, and the Wardrobe, Goosebumps, and many more. The entire building was like a walk through the pages of children's literature! Students, families, and staff were asked to participate by voting for their three favorite doors. The next day, votes were tallied and winners announced on the morning show. The favored three were awarded prizes donated by the RES PTO, and door prizes were given to lucky attendees donated by Webb Dentistry, Waffle House, and the RES PTO. Earning 3rd place honors was Ms. Melissa McKown's door illustrating The Lightning Thief. Tied for 3rd was Mrs. Deanna Baker's blossoming entrance into The Secret Garden. Second place went to The Lion, the Witch, and the Wardrobe, created by Mrs. Tonya Bearden's class. The grand prize went to Mrs. Laura Whitely's class for a trip down the yellow brick road to The Wizard of Oz! Congratulations to these four classes for amazing door decorations, and thanks to all of the RES teachers and students who made literature come alive through their creativity!
Literacy Night was coordinated by Mrs. Alisa Nepp, paraprofessional and RES' resident artistic genius. Creative workshops were designed for student enjoyment, encouraging them to find the joy and excitement in reading. Students designed super hero masks and had their pictures made with some larger-than-life super heroes. Children also enjoyed reading to a therapy dog, while others shopped for new books at the Happy Camper Book Fair. While in the media center, hot chocolate, donated by Waffle House, and cookies were provided for families to enjoy while shopping and/or reading with their child. Coordinating with the book fair theme, children cozied up to the fire to read a good book, too. Nepp commented, "If you go by the numbers in attendance, the night was a HUGE success. However, I feel that if we showed just one student how exciting reading can be and sparked a new love in books, then the night was a success and all the hard work was worth it. I think the families had fun, and, hopefully, we provided them new ideas to foster a desire in their children to read more at home." RES extends sincere thanks to Mrs. Nepp for her time and dedication, which resulted in a wonderful event. Additional thanks to the RES PTO and business partners who contributed as well.