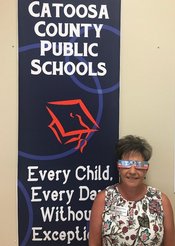 Superintendent Reese is ready to safely observe the eclipse
Catoosa County Public Schools will have an extended day on August 21st to celebrate the "Great American Eclipse." Superintendent Denia Reese said, "We are meeting with a representative from NASA, and we are planning lessons and activities to celebrate this momentous event. I know some of our teachers have been planning activities for over a year in anticipation of this total eclipse. We are very excited about sharing this experience with our students."
Superintendent Reese explained that safely observing the eclipse will be the highest priority for the day. Parents will receive a permission slip to indicate if they would like for their child to view the event outside or inside. She said, "We have already purchased safety glasses for students who will be outside during the eclipse."
She added, "I know some parents may want to experience the eclipse with their child, so absences and early dismissals will be excused. Parents are also welcome to join their child for the event at their school."
General Information:
• Catoosa County Public Schools will be open on August 21, 2017. Dismissal will be about 30
minutes later than normal so buses, student drivers, and car rider parents are not traveling
during the eclipse.
• Parents must return a permission slip for students to observe the eclipse outside.
• Every student who has permission to observe the eclipse outside will be given protective eyewear
for safety.
• Students who are inside will observe the eclipse virtually so everyone has the opportunity to
participate in this significant event.
• Absences and early dismissals will be excused so parents who don't have to work can experience
the eclipse with their child.
• Parents are welcome to come to school to observe the eclipse with their child. (Parents must
bring their own protective eyewear. The school system purchased glasses from
rainbowsymphony.com.)
Superintendent Reese said, "This is the first total solar eclipse in the continental United States in 38 years. I am glad we have the opportunity to share this experience with our students and parents."