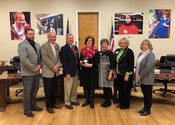 Pictured L to R: Vice Chairman David Moeller, Jack Sims, Chairman Don Dycus, Special Education Director Becky Conner, Superintendent Denia Reese, Suzan Gibson, and Gloria Hunt
Catoosa County Public Schools Becky Conner was selected as the Georgia Council of Administrators of Special Education's 2017 Lillie Moncus Special Education Director of the Year. Each year, G-CASE presents the Lillie Moncus Award as the highest honor for an experienced special education director in Georgia.
The qualifications for this prestigious award include: seven or more years of experience, exemplary leadership and service, care and concern for students with disabilities and their families, contributions to the field of special education, involvement in professional and community affairs, and an outstanding leader in their local district. Superintendent Denia Reese said, "Based on this criteria, the Catoosa County Board of Education and I are confident that G-CASE selected the best person to receive this award."
Ms. Conner has been employed with Catoosa County Public Schools since 1989. She has worked as a teacher, assistant principal, and principal. She has been the Special Education Director for the system since 2002.
Superintendent Reese said, "Ms. Conner represents all that is good in education. She is kind, compassionate, and loving. She sets high expectations and models integrity. She respects parents, students, and teachers. Catoosa County Public Schools has an outstanding special education program due to Ms. Becky Conner's dedication and commitment. I can think of no one more deserving of this award."